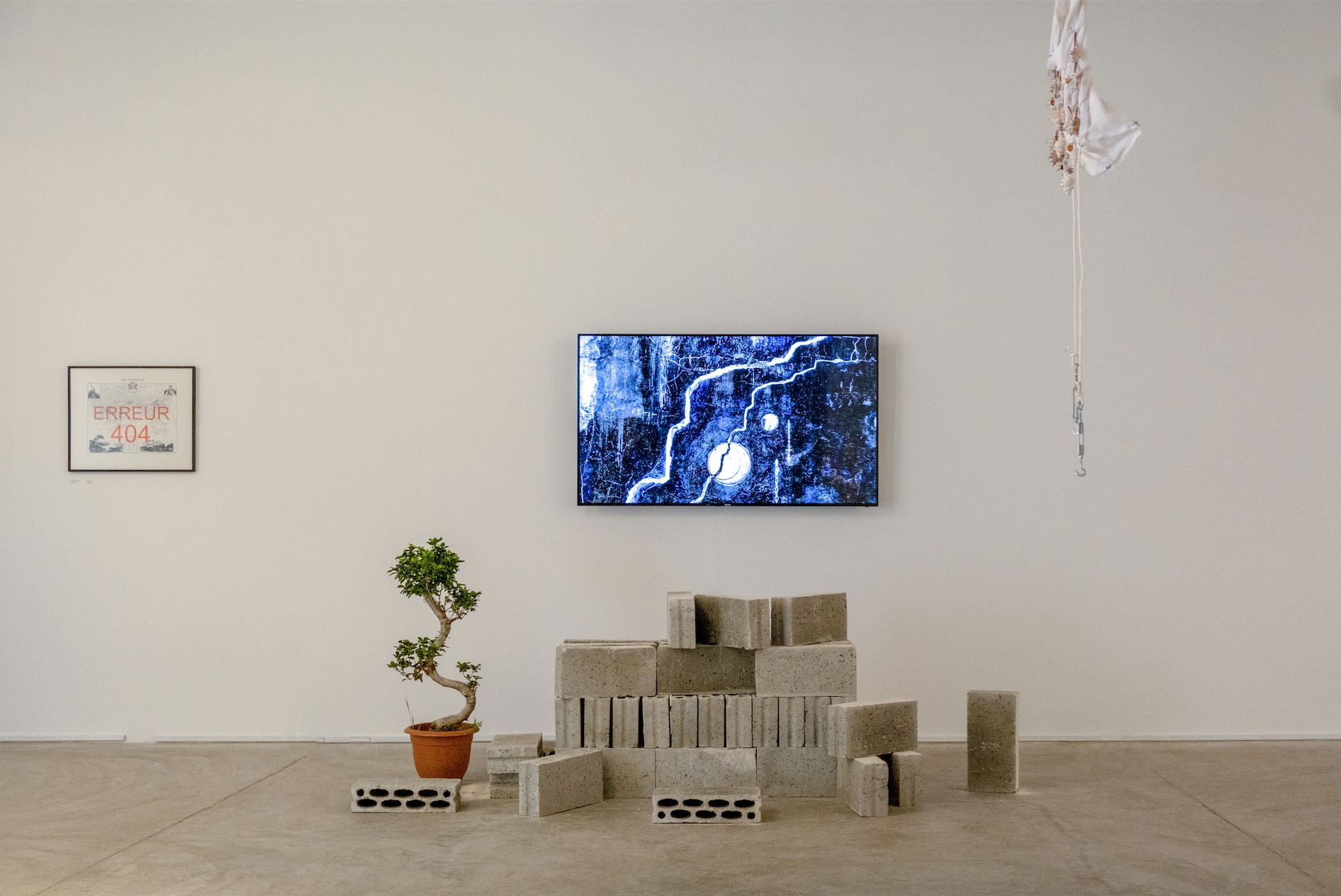 Ephemeral Territories seeks to examine the ways in which sound constitutes space and social identities. Realized as an unstable environment in a constant state of flux, the exhibition takes as its point of departure the contribution of the auditory to the production of imagined communities and cultural geographies, but also the transformative and subversive potential of sound as a tool to construct alternative narratives and landscapes.

From noise to the mystical and the occult, the works contemplate destabilizing forces that disrupt the boundaries between the rational and the irrational, the normal and the abnormal, the attainable and the futile. Crafting new languages from and through the margins, the exhibition is an invitation to transcend failed ideologies and colonial legacies and imagine alternative futures occupied by different voices and new forms of self-determination and collectivity.

Participating Artists: Fai Ahmed, Nasreddine Bennacer, Laith Demashqieh, Diana Al Zubi, Yazan El Zubi, Basel Hasan, Naresh Kumar, Magdu Magdy, Mostafa Onsy, Nawaf Radwan, Bashar Suleiman and Jean Bhownagary.

The group exhibition was part of the first phase of the Junctions program at The Lab- Darat al Funun (2019/2019), bringing together artists and cultural practitioners exploring sound, listening and sonic practices in relation to forms of collective agency, alternative socialities and the emergence of milieus.

Accompanying Events

Workshop: Politics of Sound and Listening with Khaled Kaddal

Facilitating an inquiry into the politics of sound, the workshop features a series of collective listening sessions curated by artist Khaled Kaddal. Participants meditate on each other's listening practices, journey into the most intimate and personal of sounds and explore various listening perspectives in relation to three types of aural realms:

1) Urban soundscape: While we all live in the same city, we relate to the spaces we inhabit in different ways. In this part of the workshop, each participant explores a soundscape of choice, introducing their perception on urbanism and non-urban fields and sharing how they relate to such sound.

2) Inner sound: When we read a text we read it with our inner voice, which is a very personal and intimate sound. This also includes the sound of thoughts and dreams.

3) Sonic objects: Using contact mics, we can capture sounds transmitted within materials. Participants share their personal sensorial-reflections on inaudible sounds emitted by their objects of preference.

The listening sessions are complemented with group-readings on each category. Participants read and discuss essays and texts on how the practice of listening enhances the human sensorial awareness that is otherwise desensitised by the dominance of materialism.

Performance: The Sky is High, But! The Sky is High, But!

"The bird awakened in bewilderment,
bathing the night with sorrow,
Shining with the blink of dawn,
Offering tunes to the morning sky!"

In violent combats, survival instinct could swallow our bodies in dark bunkers. However, sounds of weaponry penetrate the ground to dominate ears and dreams.

In this claustrophobic setting, souls crave to be embraced by the sky. From somber bunker to bright sky, the surreal experience scars memories, but expands sensational awareness beyond any political belongings and national identities.

The Sky is High, But! is an audio-visual performance by artist Khaled Kaddal that enhances the existential transition from trauma to post-trauma of "the" political victim. The composition is using recordings of weaponry sounds and birdsongs, forming three chapters on a transformative story of a Bird.

Lecture Performance: The Political Possibility of Sound | Fragments of Listening

A lecture/performance by artist Salomé Voegelin, in reference to her new book of essays about possibility and sound.

The essay is the perfect format for a crisis. Its porous and contingent nature forgives a lack of formality, while its neglect of perfection and virtuosity releases the potential for the incomplete and the unrealizable. These seven essays on The Political Possibility of Sound present a perfectly incomplete form for a discussion on the possibility of the political that includes creativity and invention, and articulates a politics that imagines transformation and the desire to embrace a connected and collaborative world.

The themes of these essays emerge from and deepen discussions started in Voegelin's previous books, Listening to Noise and Silence and Sonic Possible Worlds. Continuing the methodological juxtaposition of phenomenology and logic and writing from close sonic encounters each represents a fragment of listening to a variety of sound works, to music, the acoustic environment and to poetry, to hear their possibilities and develop words for what appears impossible.

As fragments of writing they respond to ideas on geography and migration, bring into play formless subjectivities and trans-objective identities, and practice collectivity and a sonic cosmopolitanism through the hearing of shared volumes. They involve the unheard and the in-between to contribute to current discussions on new materialism, and perform vertical readings to reach the depth of sound.

Workshop: Port of Amman

The port in coastal cities is a meeting point for strangers passing by for travel, commerce or tourism. Ports usually thrive with commercial services customised for visitors or workers from the area. Hotels, tailors and markets usually surround the seaport, as well as entertainment venues that accommodate to the variety of visitors and their myriad preferences and desires. There is no sea in Amman, but there are land ports for the passers-by that were previously confined to certain areas but have since expanded since and reached sporadic spots around the city. How did the entertainment industry develop in the city? How have the forms and dynamics of artistic production evolved over time? And how do we connect with our sonic culture and its roots? Who would sing for the revellers in Amman? And what was being broadcasted to the public on radio since 1956?

Port of Amman is a research-based workshop exploring the art of entertainment in Amman throughout various historical phases. The workshop aims to investigate the unofficial history of entertainment production in the city in relation to populist folk culture, and dialectics of power, place and consumption.

Participants meet twice a week over the course of 1 month to research archival materials and explore the impact of sonic entertainment cultures on the city.

Port of Amman forms the nucleus of artist Firas Hamdan's Radio 7awi project. The various stages of this research are documented to produce a series of podcasts focusing on the history of entertainment art in Jordan.

Qala 0.8900, ITERATION (3A) OF SAWT

In relation to the Arabic writings, Zipf's law dictates that Qala, an Arabic masculine verb meaning "He Said", is the 12th most common word in its language and frequencies at close to 0.9 percent. The common use of this verb, its situation in the past tense and being the first non prepositional letter within the study could be argued to reveal a subordinate nature in Arab speakers or maybe a reliance on a masculine dictation of the past.

Zipf's law creates an ambient hum within the language of a certain culture by enforcing an awareness of the frequency that a word is used, creating a cyclical wave similar to the wave of a specific tone.

In this Sawt event, we attempt to romanticise the subconscious and pre-deterministic pattern within language/history, and the ambient cultural tone that it sets within the human behaviours through habit and memory. This whilst emphasising the strength of political and religious chants as circulated through generations, and the ways that language falls into a certain set of rules and therefore so do these dogmas.

Sawt is the human parallel to the digital exhibition space Samt, it manifests in the form of micro art exhibits and intellectual conversations that take place around the world.

Participating Artists: Tara Aldughaither, Shamma Al Amri, Mays Al Beik, Moza Almatrooshi and Mazen Alashkar. Curated by Walid Al Wawi.

Workshop: Sound Healing

With the intention of gently guiding participants in finding their own resonance, this workshop by Ramsey Kattan perfectly encapsulates core values of connecting within and making contact with our own individual essence or vibration.

In this workshop, Ramsey introduces us to Harmonic Singing and focuses on opening up the voice. Currently studying music and healing in India, Ramsey uses techniques taught by Dr. Hafiz al ishi and Master Don Conreux to facilitate healing in the emotional and physical body using voice sound and vibration.

The workshop is be guided using live music instruments.

Performance: Sonic Experiments at the Archaeological Site

Line-up:

ONSY
https://soundcloud.com/mostafa-o
Onsy is a Electronic music producer Based in Cairo Egypt, Onsy's Music is Consisting of slight clusters of experimental and abstract elements of composition, subtle melodies and interventions of carefully designed sounds, with glitches that contribute to the beats, He's also one of the 2 members behind 0n4b.

DIJIT
https://soundcloud.com/dijit
Hashem L Kelesh is a music producer famously known as Dijit. His performances are not about making delightful music or even making sense, but, rather, providing people with noise that reflects the community we live in. Needless to say, he has very little sleep. He has also produced music under many titles and featuring many renowned artists as well as budding ones like Aly Talibab (spoken word artist), Abyusif (rapper), Mohamed Adel (composer and guitarist), AC Ghazy (rapper), and As Dee (singer and spoken word artist).

INSIN
https://soundcloud.com/insinsun
Elvin Brandhi, Welsh producer / vocalist and Palestinian producer/MC Bashar Suleiman in sync present a mashed up sample based laptop black metal, synched up with emocore harmonics: A mutated clash of warped noise, screamo-autotuned, and rap.

Special NID
https://soundcloud.com/nidal-taha
Special nid is a founding member with assembli Amman. His sound is very leftfield and lies anywhere between Techno and ambient, his sets have been described as emotive and atmospheric.

Performace: Cities and People

A sound performance by Hashem El Kelech and Bashar Suleiman introducing the project "Cities and People".

A collaboration between Hashem El Kelech and Aysha J.Nasser culminated in an experimental video installation that moves between Amman and Stuttgart in an attempt to portray the subtleties of two different cityscapes and the people that inhabit them. At the heart of this project - which focuses on day to day impressions and their accompanying soundscapes as experienced by the artists - lies the examination of the make-up of cities and how we experience them. What distinguishes one city life from another? Are perceived differences mainly a component of social and cultural life or are there possible similarities intrinsic to any particular cityscape?